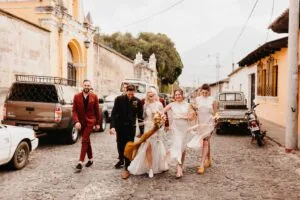 Destination wedding trips are an excellent option for couples who want to host and have fun with their friends in a special place or country. It could be your dream to host your wedding in Italy, Paris or Haiti. 
While finding a destination wedding trips' location, you will have to think about all the aspects like it should be secure and have all of the resources you need. If the place cannot accommodate all your company or any of their accessibility or their childcare requirements then it could be a bad plan. 
We help you plan the best destination wedding trip
You will have to make sure about current tour warnings, political issues, or fitness issues in the region. If there are any, it is a better idea to change the destination wedding trip's location than make everyone uncomfortable on the big day. You should always keep in mind that there is nothing greater than your best day. And your destination wedding trips should not be ruined by some random things.  
We put research on these things and offer you the best options for your destination wedding trip. Our people will take care of the location, date, as well as inform you about all the important aspects before planning your trip.
Advance visit 
To be straightforward there is nothing better than once visiting the destination wedding trip's site before planning all the way round. It will be worth your time, money, and energy in the long run. No information from the random website or from the random dude is going to help you. When you yourself visit the site and the place then it will let you know what you have to do to make your destination wedding as memorable as you thought. 
You can choose the time of visit like on weekdays or on the weekends. It will help you to get greater insights. It will help you to know the place at a different time. More you know, the better you will be able to plan your destination wedding trips. 
Secure your passport as well as other documents
You will not want to shatter your plan because your documents are not ready. So, take your time and update them in advance so that you do not face these issues. Not only your but your partner documents should also be ready before the grand occasion. You should also inform your guests prior to the date of destination wedding trip so that they can also have their documents ready for the big party. 
Check all the requirements before proceeding for the destination wedding trip
It is cool to have you marriage in some other exotic place. But it will be cooler if you read all the documents regarding the marriage law on that land. Every state have their own law and your marriage should comply with that. On the other hand when you are marrying in another country then make sure you go through the whole procedure for the same. Our destination wedding trips' advisor will help you out.
Air Global always ready to serve you in these situations and help you out. We help you in visiting the place, planning your whole destination trip as well as helping you sorting out the all the travel documents.